Kylie here! I'm going to try and start doing episode notes for us from now on!
Question: "What are you knitting on" is something Kylie says – is it an Aussie saying? I'm not sure!! It's something i've never thought about before!! I'll be aware of it from now on!! It's like "What are you working on?"
What we're 'knitting on'
Refined Socks by Kelene Kinnersly – Yarn is Zwerger Garn Opal Cotton Premium (Colourway: 9710 Tautrapfen)
Coal Flowers Socks with a Fish Lips Kiss Heel – Main Yarn is Rainy Day Yarn Everyday Sock (Colourway: Coal Flowers); Contrast Yarn is CoopKnits Socks Yeah! (Colourway: Xenon) from Knit n Stitch in Auckland.
Misurina by Boyland Knitworks (Caitlyn Hunter) – Yarn from fibre2go in Lynn's new 80/20 Merino/Silk base. Main Colour is Light Hydrangea, Contrast Colour is Honesty.
Gill has been knitting a cowl which she is making up as she goes along – how clever!! Holst Garn mini's are being used. This is plane knitting as she's been travelling lots with work.
Honey I Shrunk The Stash by Knit Graffiti Designs (Lesley Anne Robinson) – triangular single colour brioche. Yarn is scraps and minis. This is Gill's first Brioche project and she's learning a new technique so that she can eventually knit Rebel, also by Knit Graffiti Designs, along with Ursa by Jacqueline Cieslak which has a brioche 'ribbing' along the bottom.
Finished!
We've been busy again!! Here's what we've finished:
Dino's on Holiday (Test Knit – pattern not yet released) by This.Bird.Knits (Annie Haas) – Yarn is Outlaw Bohemia Light (see pattern page for colours)
Cirro by Woolly Wormhead – Yarn from Squiggle Yarn Co. in South Australia – Bulky 100% Alpaca – so soft and squishy!! And i found a pom pom since publishing – it's one i handmade at our local knitting retreat last year:
Face Scrubbies by Laura Sutcliffe – great pattern which includes the print out to put them in for gifting!! Yarn from Ribbon Rose – Sesia Jeans.
"Ugly Crochet Sweater" made similar to her Scrappy Granny Sweater using Faux Mo from Spotlight.
Botanic Shawl by WestKnits (Stephen West) – yarn was gifted so it's mystery yarn – it's so beautiful!!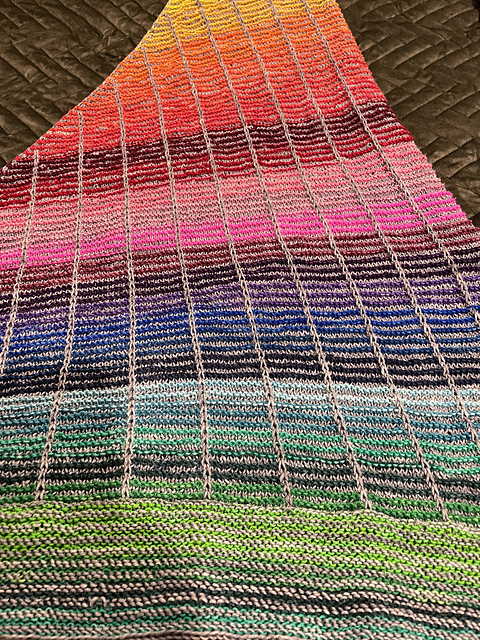 Acquisitions
We've done a bit of shopping again!!
Gill went shopping at Vintage Purls. I went shopping at Prosper Yarn. Both independent NZ dyers. I also went shopping at Burnt Hill Yarn Company where i got some gorgeous enamel pins and got some books in the mail! I got the second Harry Potter Knitting Magic Book by Tanis Grey and the lastest 2 books from Wool & Pine (Book 2 and Minis, which are kids versions).
We're both going to try and not buy much next year – we have a lot of stash!! I'm going to try and make it to Woolfest (May) and Gill might try and make it a few months.
Gift-a-long
The Gift-a-long is an annual event on ravelry where independent (indi) dyers offer up patterns for 25% off in the first week. It started 23rd November and runs through to 31st December. We are knitting along with other knitters around the world, and 'entering' our finished objects into the 8 different categories. To enter an item, it must be a pattern by one of the Indi Designers.
Kylie's plans for Gift-a-long:
Gill's plans for Gift-a-long are a little more subdued that mine!
Thankyou!
Thanks for watching us! We really appreciate your support. You can find us on instagram and ravelry as teaandayarn & kraftymumma.